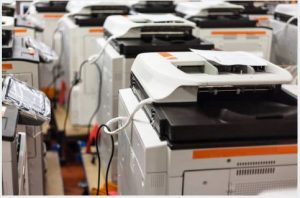 ATLANTA, Georgia would probably go down as the birthplace of one of the most celebrated social activists – Martin Luther King Jr.
In the time of Martin Luther, African American were faced with extreme prejudice and racial discrimination, prompting a great movement (led by Luther himself) to fight against these inequality and human rights issues.
In hopes of ending such racism, thousands of African Americans armored with their huge banners, placards, and posters printed with huge black-and-white and colorful texts visually screaming for equality and human rights marched down the streets and fought for their rights.
Looking back a couple of years ago, it was truly amazing how messages on paper have played a huge part in the American history. Today, a lot of organizations and movements still use the same medium.
Copiers have always aided in the reproduction of flyers and posters that have been used in these movements. From environmental protection to social rights movements, these no-nonsense pieces of equipment have reproduced printed materials to help spread awareness to the people.
In fact, modern copiers are capable of reproducing a certain document a thousand times within a few hours (if not minutes) making it readily available for the people. Budget-wise, these services are very much reasonable and even affordable compared to the typical computer printer. A copier service could help you save both time and money. Apart from that, printing, faxing and scanning are also available at the copier service.
The printing of materials today still play a vital part in social gatherings and events. Through these services, people could be well-informed and made aware of the issues and events that need to be perpetuated to the public. Copier service could help you achieve that. To ensure a successful social event, one of the best things you could do is to reproduce, distribute and inform.