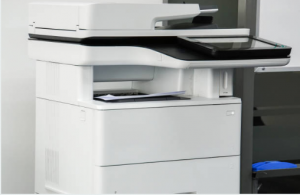 People have been curious in figuring ways on how to print a large number of materials in the easiest, fastest, most convenient and the cheapest way possible.  
While such curiosity and drive started a long way back in the past, such inner-passion they possessed have been some of the main foundations that led to the invention of the copier machine, the piece of equipment that revolutionized the printing press and even allowed it to grow to its certain state at present.
A copier machine is basically a huge device used to print or reproduce reading materials. Anatomically speaking, it is quite similar to an average printer, but with some added features.
Its similarities to the printer include the paper trays on its sides where the paper is fed into the machine. It also has its own set of buttons where you can configure the settings of the machine to determine certain information it needs to process before printing.   
In terms of their differences, the major feature present in the copier machine not found in a printer is the scanner. Oftentimes, it is through the scanner the machine gets to recognize the document needed to be photocopied.
In other copier models, the scanner can also be used to produce a scanned copy of the document which could then be saved into the computer.
Another obvious difference is the size. The copier machine was designed to produce huge amounts of printouts at greater speed, which means, larger printing parts, larger paper trays, and the inclusion of other important features.
Despite its large size, copier machines are fairly simple to manage with a not-so-hard beginner's manual. This makes it easy for people to operate it.
Therefore, leasing or purchasing a copier machine especially if the situation calls for it is a fairly reasonable and practical option.